Philips Series 3000 Showerproof Body Groomer with Skin Comfort System
Ksh 7,499
All Prices are Exclusive of VAT.
Prices may change without any prior notice.
Kindly Confirm Availability before placing the order.

Confidently shave or trim all body zones
Designed to be safe and comfortable for underarms, chest & abs, shoulders, groin area and legs. The skin friendly shaver catches and cuts hairs of different lengths, without the need for multiple tools or skin contact with sharp edges.

Rounded tips and hypoallergenic foil for skin comfort
The shaver head features patented rounded tips and a hypo-allergenic foil to protect your skin while shaving. The bi-directional trimmers cut longer hairs, which are shaved by the foil for a closer result.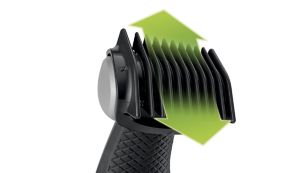 Includes 1 comb for a natural trim (3mm)
1 comb included for a natural 3mm trim. Attach the comb onto the shaving system, to trim hair to a fixed length of 3mm. You can use the shaving system without the comb, for a closer result. For thicker hair, pre-trimming with the comb is recommended.
Tags: Shavers